Over the past two years, knowing how to dress with Nike Dunk has become extremely important. The massive rise in popularity of the silhouette in all of its forms has propelled it directly into the heart of the sneaker. Now, a whole new generation of sneakerheads have become fans of the Nike Dunk, putting their stamp on the iconic shoe. With that in mind, we thought it was time to teach you how to match your Nike Dunk shoes the right way.
In this guide, we'll take a look at three of the most popular Dunk styles: the Nike Dunk Low, Nike Dunk High, and Nike SB Dunk. As the three most popular Nike Dunk varieties, we'll give you the essential tips for matching this Nike look. Whether you're a beginner or a seasoned one, there are a few things that everyone should skip from this fashion guide. Let's find out with Storepc about how to combine cool clothes with Nike Dunk sneakers.
Instructions on how to coordinate with Nike Dunk Low shoes
There have been a large number of Nike Dunk releases just earlier this year. Regardless of what sneakers you're wearing, you'll want to wear items that complement the shoe. Depending on your outfit or even your mood, you'll want to make sure your clothes, colors, and aesthetic all match.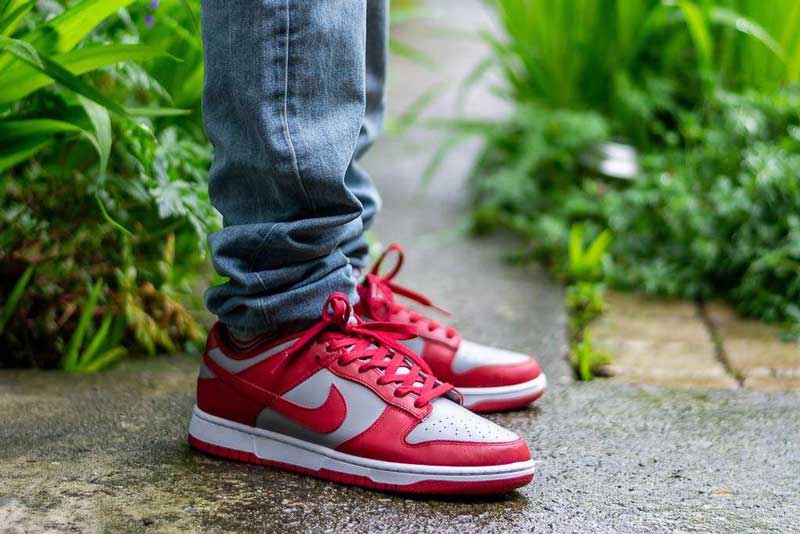 The Nike Dunk is generally a chunky shoe. With that in mind, you'll want to avoid anything that's too tight-fitting as it will accentuate the bulkiness of the overall silhouette. Nike Dunk with skinny jeans? Probably not a good idea. Now, we're not saying Nike Dunk shoes with jeans don't fit, but just make sure they're not too tight. Below, we'll give you a breakdown of some of the Nike Dunk Low outfits and explain why.
Instructions on how to coordinate with Nike Dunk Low for women
With the Nike Dunk Low "Syracuse" on the lighter side of the color spectrum, it's important to wear tones that really pop the shoe. The soft orange cardigan pictured below goes well with the vibrant colors of the sneakers to strike a great balance between the two. Slightly baggy denim jeans also add an element of texture to the outfit and build a comfortable and casual aspect to this look. Finally, the gold accessories round it all, giving the Nike Dunk a slick look.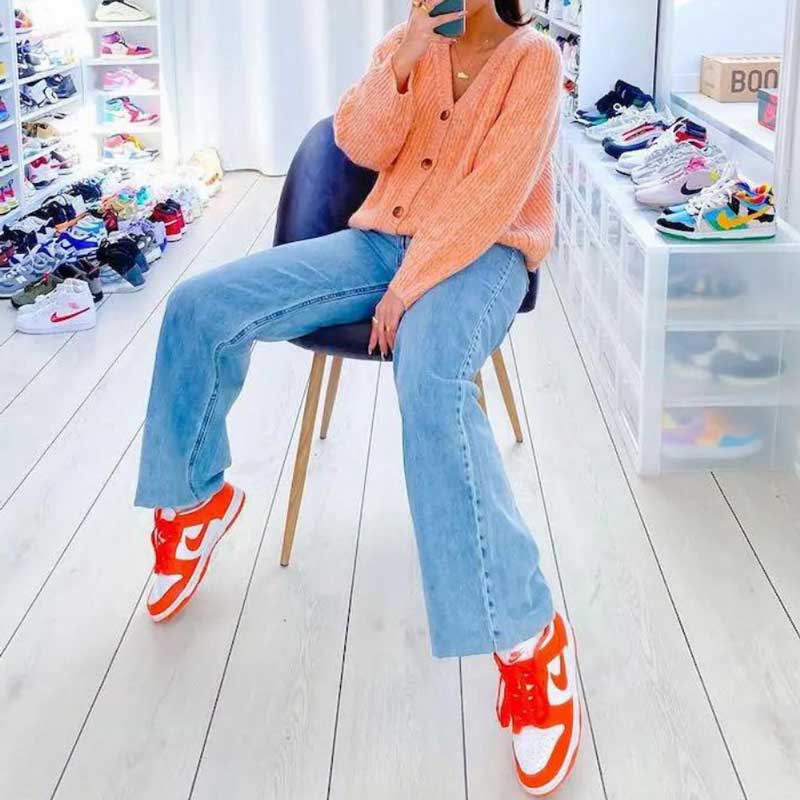 Instructions on how to coordinate with Nike Dunk Low for men
One of the first retro pairs of 2020 was the Nike Dunk Low "Kentucky". Pictured below with this laid-back look, it's clear how well the pieces really work together. A comfortable-fit hoodie and washed tracksuit pants give this outfit an almost new aesthetic. The classic band t-shirt is another piece that we all love and add to our casual yet well-dressed outfit. Finally, the bright blue Dunks "Kentucky" upper brings it all together, rounding out a great Nike Dunk look.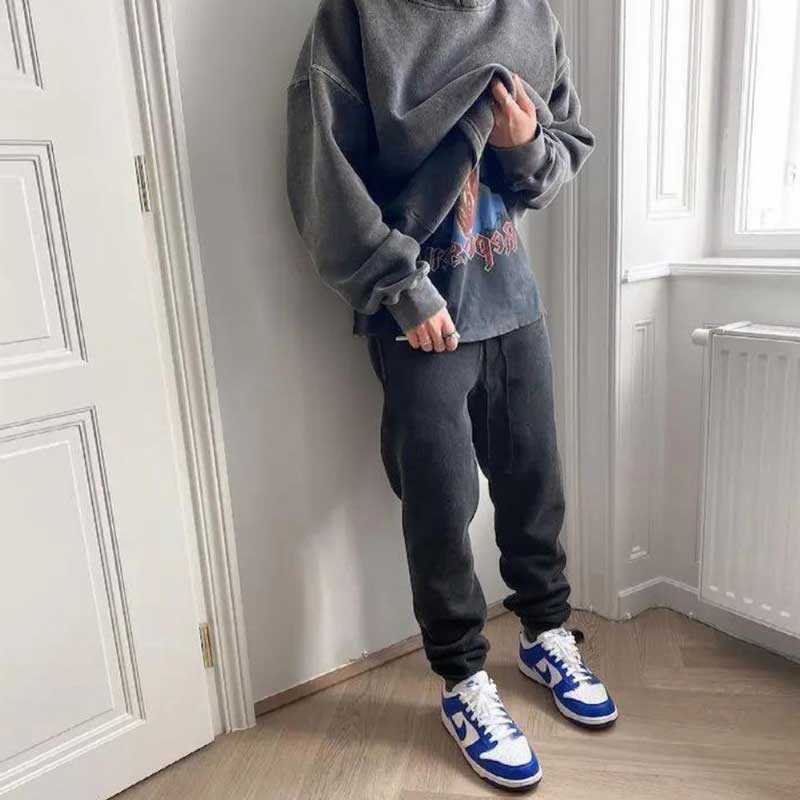 Instructions on how to coordinate with Nike Dunk High shoes
Now, as you might have guessed, there are some important differences between the Nike Dunk Low and the Nike Dunk High. The real clue is in the names, so we won't go into that too much. However, it is important to note the change in approach to styling. As you probably already know, when it comes to high-top sneakers, we need to think a little more when it comes to outfits. Due to the higher cut of the sneakers, you can't just slip anything on.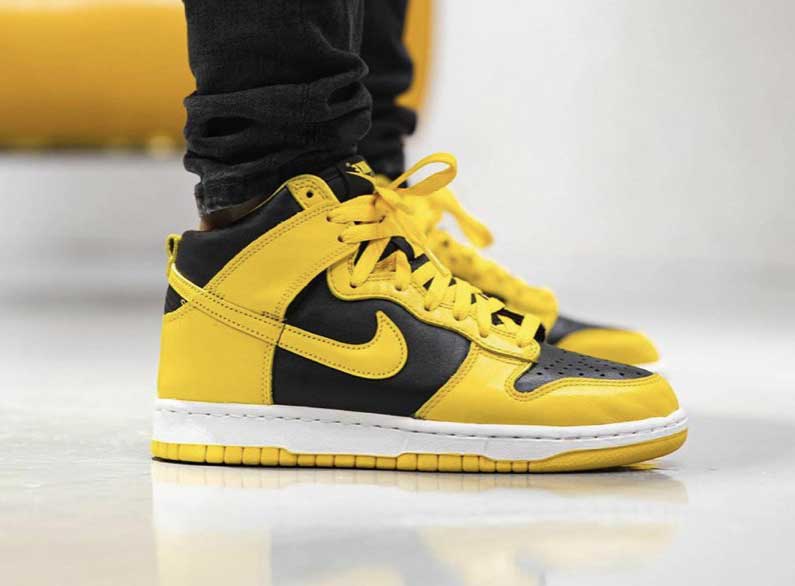 The outfit that comes with the Nike Dunk High is easy to plan once you have the basics down. Just like the Nike Dunk Low, you're looking for a more comfortable outfit. A chubby, fit or skinny figure won't look good here. Cargos, sweatpants or baggy jeans are what's perfect for the Nike Dunk High. Below, we've included a few Nike outfit ideas that we think would style the Dunk High perfectly.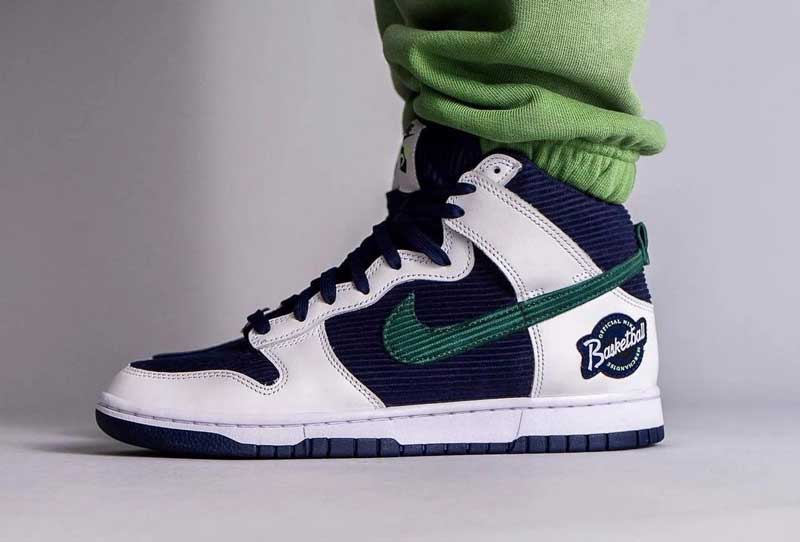 Instructions on how to coordinate with Nike Dunk High for women
Sometimes, less is really more, especially when it comes to apparel that goes with the Nike Dunk High. The image below is a simple but very effective interface of the Nike Dunk High "Vast Grey". The oversized puffy sleeves and baggy bottom give the overall look a comfortable look without trying to be too showy. It's also important to note how easily different fabrics work well, something where the tones come out as well. The light gray and white color scheme used throughout this look is also a real hit and is definitely something we love. Here's how to style the Nike Dunk, whether it's High, Low, or SB!
Instructions on how to coordinate with Nike Dunk High for men
Here's another great example of a Nike Dunk look. While it may be a classic, the "Syracuse" color scheme is difficult to get right. The vibrant orange color of this Dunk is sure to turn heads, but it's the cream trousers that are the perfect base for the orange to pop. At the top, a black jumper offers more neutral colors and a brown cap to create a solid all-around look. If you're looking for some inspiration for Nike Dunk High apparel, this is a great place to start.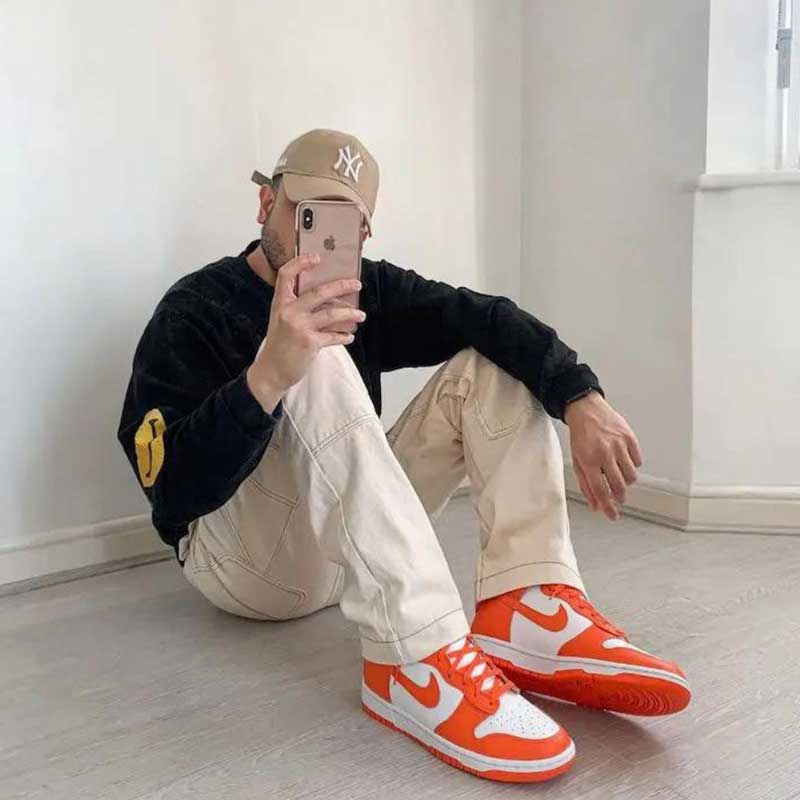 Instructions on how to coordinate with Nike SB Dunk shoes
Originally released in 2002, the Nike SB Dunk was the sneaker that really started the Dunk hype. 19 years later and the Nike SB Dunk is back at the top of the sneaker world. We've also seen some pretty crazy Nike SB Dunk collaborations over the past two years, with some being huge hits. From Ben & Jerry's to Sean Cliver, there's truly a Nike SB style lesson for everyone. Fortunately, we will help you.
The important thing to remember about the Nike SB Dunk and the Nike Dunk is that it's a bit more messy. The Nike SB Dunk has a stiffer tongue, a lower profile, and a more durable build. Given the wild colors of the Nike SB Dunk we've seen over the past two years, you'll want to keep things relatively simple with the outfit that goes with your SB Dunk. The best thing about the Nike SB style is that it comes from skateboarding. Think laid-back look with baggy jeans. With that in mind, check out a few of our favorite Nike SB Dunk outfits below.
Instructions on how to coordinate with Nike SB Dunk for women
While the Sean Cliver x Nike SB Dunk Low is a shoe for the holiday season, we're sure people are already thinking about celebrating Christmas in July. This blue, white and yellow sneaker is challenging to come by but the neutral tones of the rest of this outfit really work together wonderfully. A set of comfortable sweatpants in a simple gray color strikes a nice balance between the sneaker's eye-catching color combo. The cream Supreme hoodie is also a fun touch, with the light blue Supreme beanie matching every part of the outfit together.
Instructions on how to coordinate with Nike SB Dunk for men
This is another unique Nike SB Dunk Low colorway to style correctly but the outfit above is a great example of how to do it. The different colors, textures and patterns used on the SB Dunk "atmos Elephant" require a little more thought. By using the all-black upper, it creates a beautiful base for the vibrancy of the sneakers. Denim jeans and a pair of black socks also complement the unique look, ensuring that every element of this Dunk style goes well together.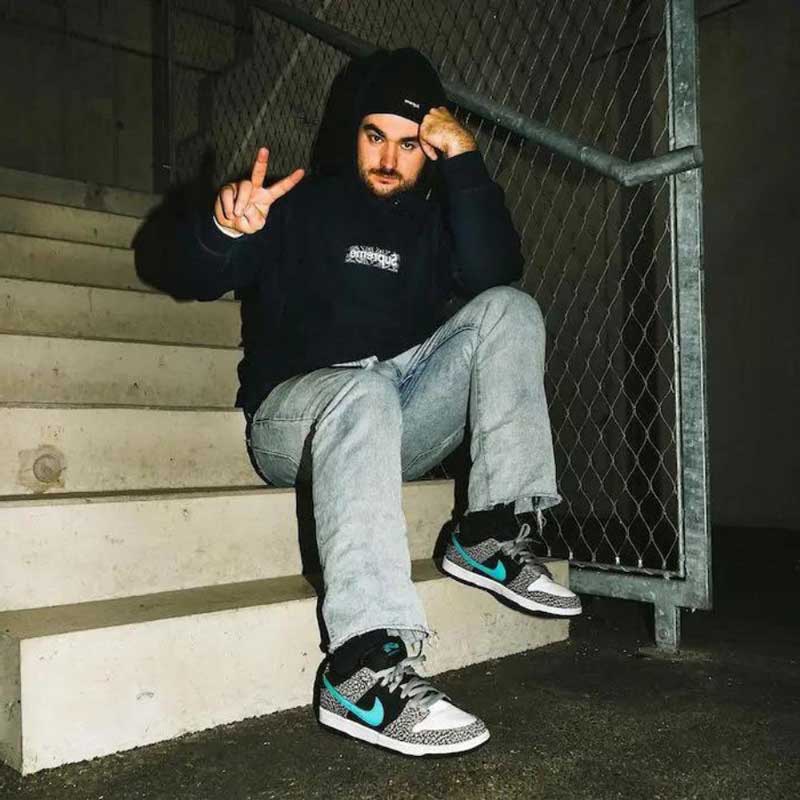 That is an introductory article about the ultimate guide to coordinating with Nike Dunk sneakers. Please continue to follow Storepc to update the latest information about sneakers.