The 60s marked one of the tumultuous periods of history: the movement for civil rights, equal rights; the rise of counterculture lifestyle, etc. Not out of that trend, this decade's fashion is also appreciated for its breakthrough and strong influence until now.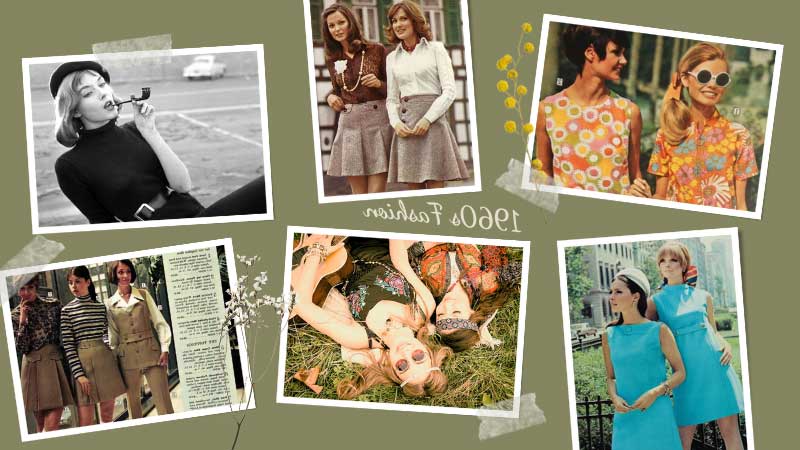 With enormous political, social and cultural changes, the 1960s was undoubtedly one of the most influential eras in fashion. The development of the movement for equal rights for women, countercultural lifestyles, cultural flows from Indian tribes and Latin American people to the United States, etc. All have contributed to the explosion. unique fashion trends "one-of-a-kind". The 1960s gave birth to the popular color block palette that "stormed" until now. This is also the period to revolutionize women's clothing with bold colors, striking cuts and rebellious youthful styles. So it's no surprise that more than 50 years later, the key trends of this period continue to influence designers, stylists and fashion lovers all over the world.
If you are fascinated and want to conquer the 60s costume aesthetic, then definitely don't miss the "key" trends and items of this period!
The 1960s was truly a fashion revolution when it produced extremely liberal styles that went against the common denominator in previous clothing styles. This is a time when traditions are broken and self-expression comes to the fore. The main fashion trends of this decade include Mod, Beatnik, Hippie and Ivy League. All of them show the spirit of artistic creativity, fun and freedom of that time.
Mod Style: "Mod" is an acronym for "Modernist", inspired by the spirit of the "Modern Jazz" genre. This aesthetic trend started with the London intelligentsia in the late 1950s, then spread around the world during the 1960s. Mod-style clothing often features loose silhouettes, streamlined cuts, and dresses. short on the pillow, with striking colors and contours. Mod style is an expression of the "I" that wants to separate from all frameworks, supporting gender equality and the modern and bold spirit of the contemporary young intellectuals.
Beatnik Style: Beatnik is an aesthetic trend that has been around since the late 1940s, but it wasn't until the mid-1960s that it really became popular. This trend is influenced by the "Beat Generation" literary movement and is associated with anti-materialism ideas. Outfits of this style include a black turtleneck, plaid top, trousers and beret. Favored by young individuals interested in art, literature, poetry and music, especially Jazz, Beatnik offers wearers a graceful and intellectual look.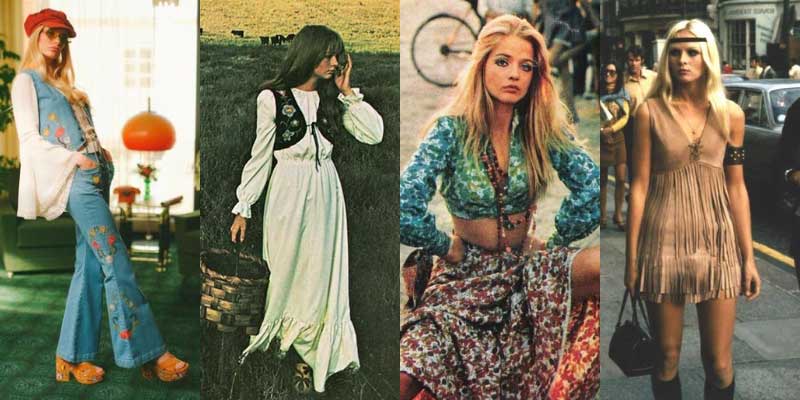 Hippie Style: Hippie is a term used to refer to a lifestyle of young people in the 1960s in North America and Western Europe. They oppose war, promote freedom, love, peace and advocate returning to nature. Hippie fashion is shown through hand-embroidered designs, flared jeans, maxi skirts, denim, tie-dye, tassels, etc. Popular accessories are beads, square scarves. paisley prints, Indian, Mexican or Moroccan silver jewelry, etc. Hippie is a representative of wild style, liberal freedom, beyond social norms.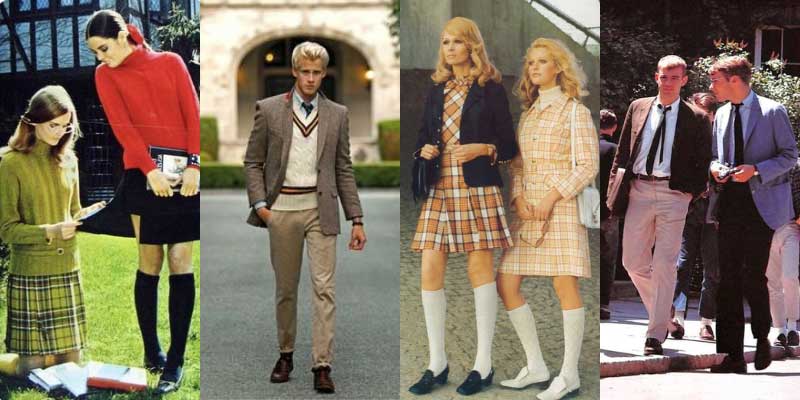 Ivy League style: As the precursor to the extremely "hot" Preppy style every autumn, the Ivy League originates from the dress aesthetic of the male class of Ivy League schools: blazer with yellow buttons, shirt waistcoats, Oxford shirts, sweaters over shirts, etc. This style emphasizes minimalism but sophistication in form, elegance in color and the standard of uniforms. For women, Ivy League is characterized by checkered patterns, tailor-made dresses, mini skirts, low heels, high socks, etc.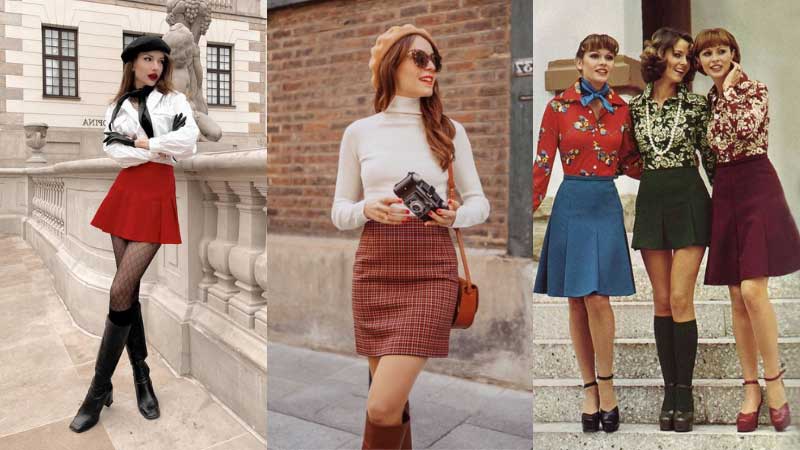 Short skirts: Throughout the history of fashion, mini skirts are undoubtedly one of the greatest and most liberating innovations for women. With a bold short, this 1960s design shocked conservatives as it allowed ladies to comfortably show off their lovely legs. Today, short skirts are still a very popular fashion item for women. For a 60s-inspired outfit, you can pair it with a colorful shirt, neutral turtleneck, turtleneck boots, or a cardigan over a shirt…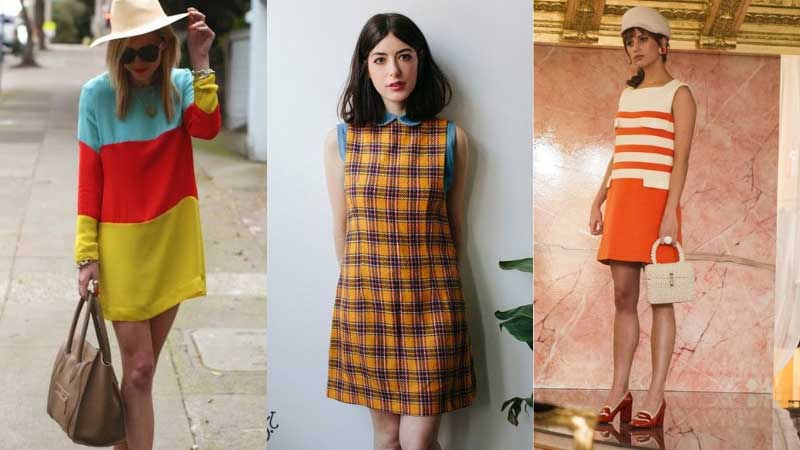 Sleeveless Dress: The epitome of Mod style, this short A-line dress is the perfect alternative to the restrained style of the past decades. Today, thanks to their chic and comfortable design, these styles are still very popular. Choose a dress with a light color or color block detail, and you'll have a fun outfit mix typical of the 60s.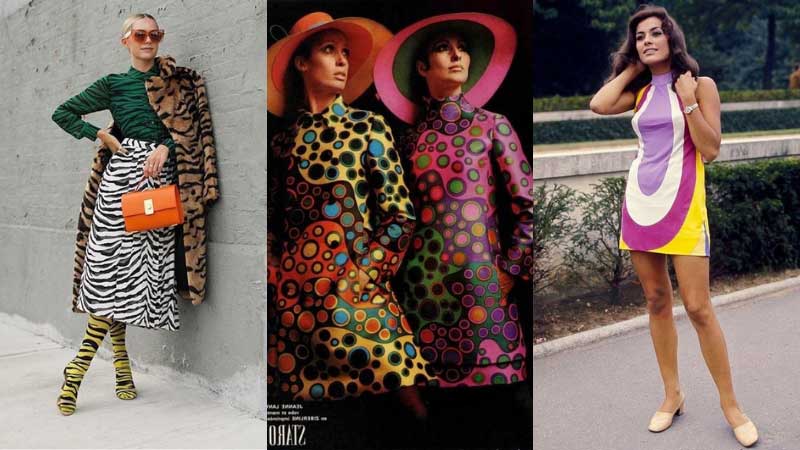 Striking Patterns: Sharp, large patterns with striking bright colors are the hallmarks of the 60s style. This textured style ranges from visual illusions, dyes, bold stripes to colorful shapes. You can optionally choose for yourself a floral dress, or snakeskin leggings, as long as these details are printed in a sharp and bold way, you have completed a bold 60s outfit. !
Colorful tights: The 60s love of color didn't just stop at dresses and tops, it was also reflected in colorful tights. "Quirky" and youthful, colored tights will be an eye-catching highlight for your outfit. You can start dressing like a 60s lady today with tights in a pop of color like purple, orange, red or yellow.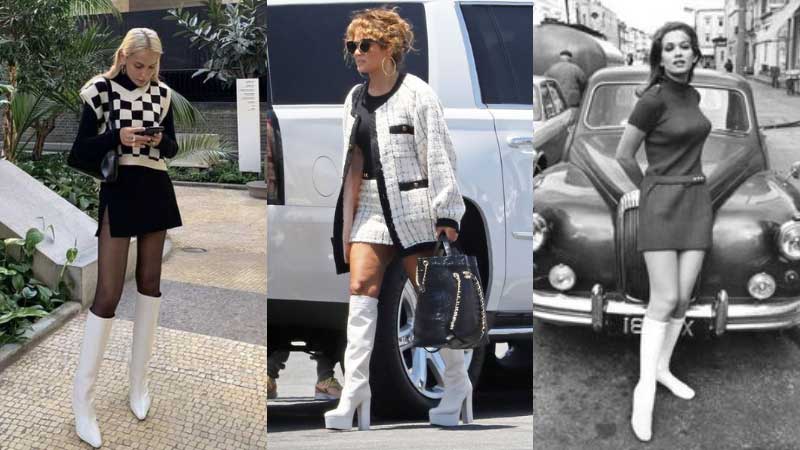 White Boots: Knee-high white boots were an iconic footwear trend of the '60s. Released in the mid-decade, this boot style features a traditional white color, low heel, and high heel. mid-calf. However, over time, this style has evolved with a knee-high version, more colors and a cat heel design. Choose a favorite pair of boots to loose your figure with a mini skirt, the 60's lady has "shown" already!